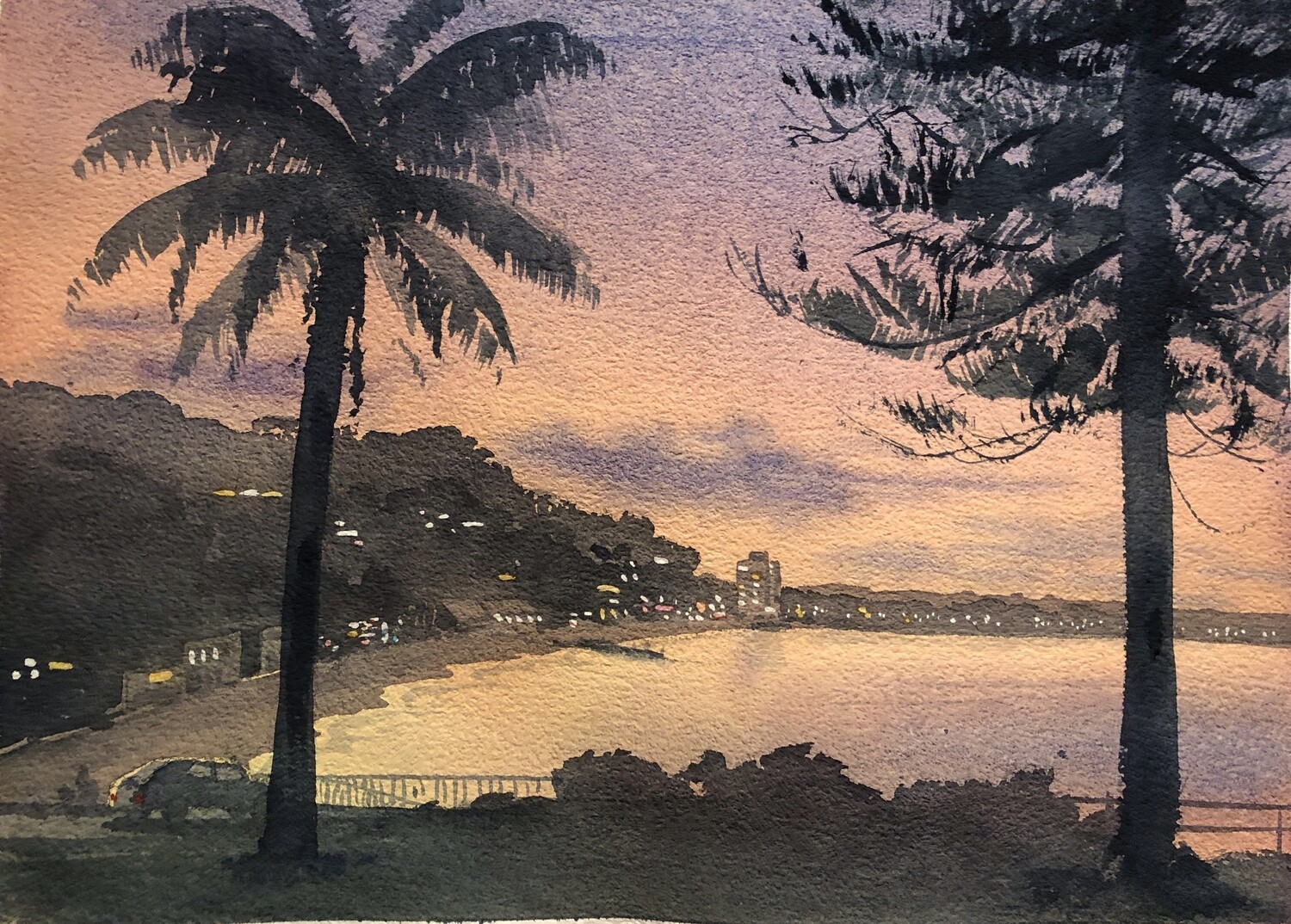 ZOOM ONLINE STAGE 4 Wednesday Morning - Guided Paintings - Remainder 6-7 weeks to 16th Dec. (Full term was $330)
SKU 00117
Product Details
JOIN our Zoom Online Live Watercolour Stage 4 Class for Adults - LEARNING TO PUT FULL PAINTINGS TOGETHER ~ Like 10 workshops in 10 weeks.
****PLEASE CHOOSE EITHER PAYPAL OR CREDIT CARD OPTION for your payment.

WHO: New students are always welcome - you must be over 18. You will be ready to paint guided paintings, and will know all the basic skills of watercolour already. Want to know where to start? This class is for you.
WHEN: 10 weeks, every Wednesday from 10am - 12.30pm.
14th October - 16th December.
Log into class on zoom at 9.45am Australian Eastern Standard Time.
WHAT DO YOU NEED?: An equipment list is provided on our website www.northernbeacheswatercolour.com.au and has recommendations to ensure your paintings are of the best possible standard. You will be painting 1/8 to 1/4 sheet size (A4 - A3). New Students: Bring what ever equipment you have, but if you are buying please purchase ONLY what is on the equipment list. It's important at this stage NOT to use student quaity materials. The paper, Arches 300gsm rough 100% cotton paper is compulsory (or similar.)
HOW TO LOVE ZOOM: If you are unsure of how to use zoom, don't worry. Jenny will offer you a 'How to Love Zoom' instruction sheet, AND a free 5-10 minute private tutorial online, how to use zoom. It's as easy as doing your email.

LEARN ~ PAINT ~ ENJOY:
This term , stage 4, is an absolute cracker.
Guided paintings, step by step, is just like 10 workshops over 10 weeks, but better. This is a class where your skills can catch up to your knowledge. We paint a huge variety of subjects which may include:
* a jug of watercolour brushes.
* a pair of old boots, joggers or ballet slippers
* beautiful wet into wet landscapes
* water and boat scenes
* gorgeous field of flowers
* pen and wash street scene
*a lovely evening beach sunset scene
*a pair of budgerigars
*negative painting of autum leaves, gum leaves, forest trees - your choice. ......any or all of these, and more.
1. Multiple tutor demonstrations showing exactly what to do and how to do it step by step.
2. Learn new tips and tricks every week.
3. Interesting and varied subjects to paint every week.
4. A great set of workshop notes emailed every week, with a class summary, how to's, painting ideas and tips and tricks.
5. Tea breaks and check up on how you're going.
6. Step by step and personal instruction.
7. relax at home in your own painting area, staying Safe
8. Subject and instructions emailed prior to class every week for drawing up.
9. Great set of PROGRESS PHOTOS of the painting being painted as a handout.
10 Watch demonstration, and follow at your OWN pace, no need to keep up.

INCLUDES emailed prep subject, instructions, and progress painting photos every week.
Enjoy a fun and productive paint, where your casual and relaxed tutor will ensure you have the very best instruction possible.
In this class you need to be aware that you are visible to the host, Jenny, and to other participants via the video link in your webcam. Jenny will also be visible, and will screen share to her painting table while the demonstrations are being conducted.
PREREQUISITES:
1. A valid email address - to receive your zoom instant-join link and password.
2. A computer, laptop or tablet with the Zoom application installed. (It's free) and
3. a functioning webcam / camera and functioning audio/speakers on that device (as the Zoom application is a video link.)
4. Payment methods: Paypal , Credit/Debit Card ONLY, so that your payment is received prior to start of class.
Participants are required to have the Zoom appication on either a computer / laptop, tablet, or (at a pinch) even a smart phone near their art desk. (Students should use a smart phone only if no other device is available, as the screen will be very small.)
The device used must have a webcam or integrated camera AND functioning audio.
Zoom is free, and easy to use. It is the participants responsibility to learn how to use it. It's simple, and details can be found here: https://support.zoom.us/hc/en-us/articles/201362193-Joining-a-Meeting on how to join a zoom meeting. You do not need a Zoom account, but will simply click on an emailed link which will prompt you to download the software onto your device if you have not already done so.
This Zoom workshop is not recorded as it contravenes privacy laws and copyright issues. Students may screenshot the workstation at any time, however may not reproduce or distribute the screenshot in any way.
After your payment you'll get an email receipt. Later, Jenny will email you class information, equipment list, and things you should know. It will include the link to join the class. Please ensure you are familiar with the zoom platform PRIOR to class.
This is a 'click to join' link. The link in the email invitation simply needs to be clicked, where zoom will launch, and get access to the meeting.
REFUNDS: Please note that these classes are non-refundable if, for any reason you miss class.It is the student's responsibility to ensure you have the joining-link in time, and that you know how to work Zoom, and join the class.Change of mind refunds can be made with 3 days (72 hours) notice in writing (email to northernbeacheswatercolour@outlook.com.au) prior to the start of the FIRST class in the term.
No exceptions.
* Thisgroup requires at least 6 students to run. In the case that quota is not met, your fee will be refunded within a week .
Student checklist:
1) You have done Jenny's Stage 1 - 3 beginner's course- OR you have a good knowledge of the foundation skills of watercolour.
2) You understand you will not be learning basic skills, but instead, will be putting them together.
3) You want to be able to put full paintings together with the skills you've learned.
4) You understand the tutor will supply the painting subject. There will be one subject.
5) You understand preparation for subject will be required PRIOR to start of class.
Save this product for later