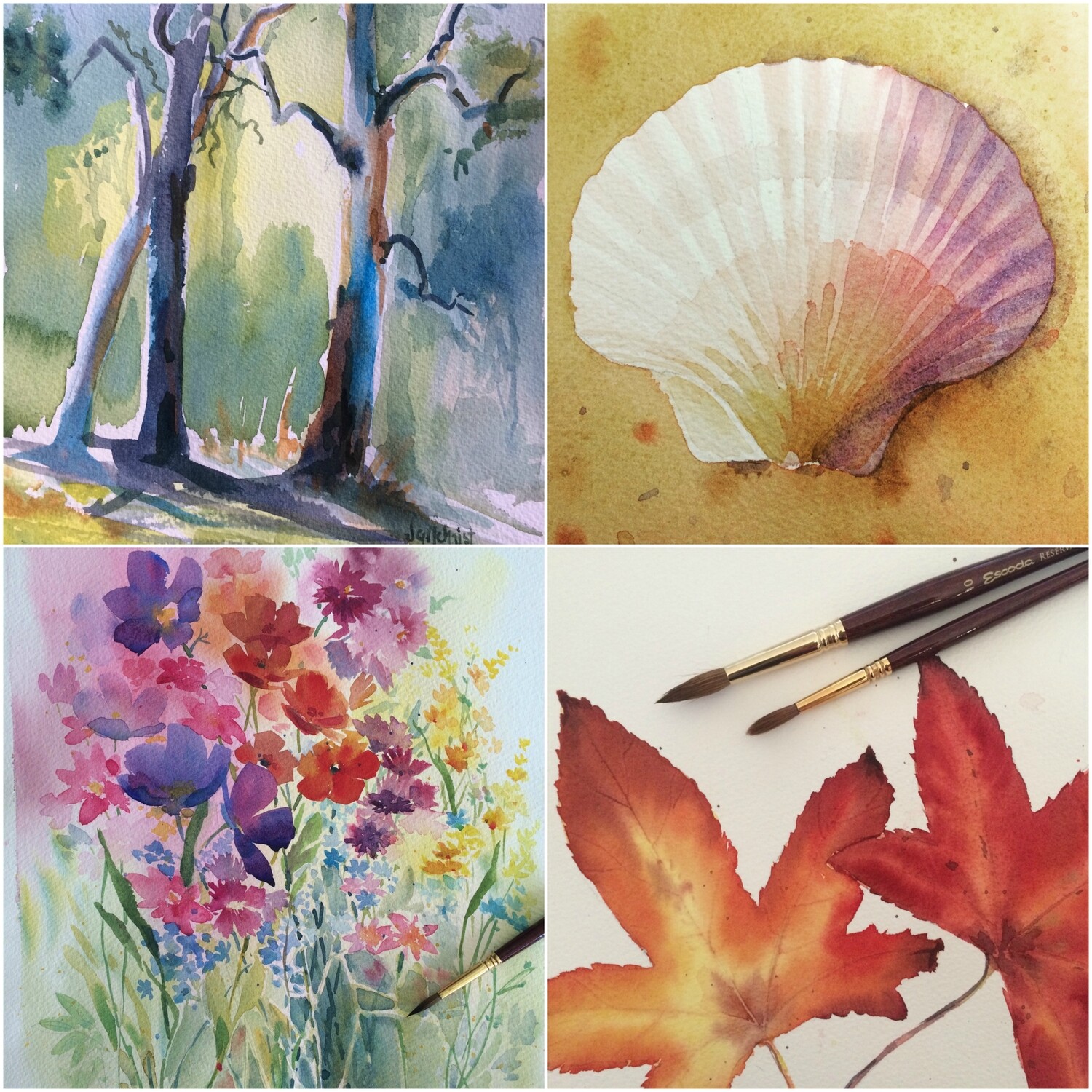 ZOOM REPEATERS - for repeating students only.
SKU 00126
Product Details
JOIN our Zoom Online Live Watercolour - at ANY LEVEL that you have already done.
****PLEASE CHOOSE EITHER PAYPAL OR CREDIT CARD OPTION for your payment.
WHAT LEVELS ARE AVAILABLE This coming term:
Level 4: Tuesday am on zoom.


WHO: This option is ONLY for students who wish to repeat a level. Perhaps you have finished your stage 4 course and want to go back to a level to retake it, or perhaps you're part way through and want to repeat a level to get more out of it. (I know, it's daunting the first time, you simply CAN'T take it all in.)
You may ONLY choose this Repeaters option if you are repeating a level you have already done. It is not available for students who have not previously been enrolled in the level you want.

HOW: If the above is true for you, and you want to do one of the levels that are on zoom, p(lease ensure your level is available ON THE DAY YOU WANT IT. Levels and days change every term.) then you can book in now, pay your half price fee, and then
EMAIL JENNY with the day you want to join up.

WHEN: You'll need to check the class level page to see the dates and times. Start on the home page.

WHAT DO YOU NEED?: An equipment list is provided on our website www.northernbeacheswatercolour.com.au and has recommendations to give you the best possible start. The paper, Arches 300gsm rough 100% cotton paper is compulsory (or similar.)

In this class you need to be aware that you are visible to the host, Jenny, and to other participants via the video link in your webcam. Jenny will also be visible, and will screen share to her painting table while the demonstrations are being conducted.

PREREQUISITES:
1. A valid email address - to receive your zoom instant-join link and password.
2. A computer, laptop or tablet with the Zoom application installed. (It's free) and
3. a functioning webcam / camera and functioning audio/speakers on that device (as the Zoom application is a video link.)
4. Payment methods: Paypal , Credit/Debit Card ONLY, so that your payment is received prior to start of class.
Participants are required to have the Zoom appication on either a computer / laptop, tablet, or (at a pinch) even a smart phone near their art desk. (Students should use a smart phone only if no other device is available, as the screen will be very small.)
The device used must have a webcam or integrated camera AND functioning audio.
Zoom is free, and easy to use. It is the participants responsibility to learn how to use it. It's simple, and details can be found here: https://support.zoom.us/hc/en-us/articles/201362193-Joining-a-Meeting on how to join a zoom meeting. You do not need a Zoom account, but will simply click on an emailed link which will prompt you to download the software onto your device if you have not already done so.
This Zoom workshop is not recorded as it contravenes privacy laws and copyright issues. Students may screenshot the workstation at any time, however may not reproduce or distribute the screenshot in any way.
After your payment you'll get an email receipt. Later, Jenny will email you class information, equipment list, and things you should know. It will include the link to join the class. Please ensure you are familiar with the zoom platform PRIOR to class.
This is a 'click to join' link. The link in the email invitation simply needs to be clicked, where zoom will launch, and get access to the meeting.
REFUNDS: Please note that these classes are non-refundable if, for any reason you miss class.It is the student's responsibility to ensure you have the joining-link in time, and that you know how to work Zoom, and join the class. Change of mind refunds can be made with 3 days (72 hours) notice in writing (email to northernbeacheswatercolour@outlook.com.au) prior to the start of the FIRST class in the term.
No exceptions.
* Thisgroup requires at least 6 students to run. In the case that quota is not met, your fee will be refunded within a week .
Save this product for later